Sall, experts in industrial workplace safety
Sall is the leading italian brand specialized in designing and manufacturing safety storage and handling solutions.
Since the foundation in 1975, Sall has experienced rapid growth thanks to the continuous investments in technology, innovation and topgrading skills and competencies.
In 2017 Sall joined Justrite Safety Group, an american multinational company founded in 1906 and leader in the industrial safety sector, to expand the safety product range offer.
Our mission: protect people and environment, prioritize safety and compliance .

Sall offers an innovative and complete range of safety industrial equipment for material handling and storage, waste management and spill control.
Our priorities:
EU norms and regulations compliance
Workplace, people and environmental safety
Comfort of use, userfriendliness and design to improve efficacy and ease operations
All the and are designed and manufactured in compliance to current regulations and are tested to provide the highest safety level for the people and the environment, this makes Sall a strategic and key partner.
One specialized supplier for all your safety business needs .
Would like to become our distributor? Find out all the services dedicated only to you and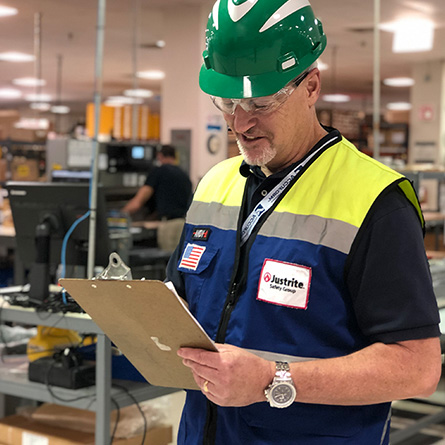 Our values
We strongly believe in the competence, motivation, sense of responsibility, desire to innovate and transparent communication with our customers because we know the importance of creating a security ecosystem for your company, people and environmental protection.
The protection of the environment is reflected in the new production capacity, which will open in September 2022 to clean energy, in the careful planning to guarantee an optimal resistance and duration of all our products and in the lean and careful production to minimize the environmental impact in terms of wastes and in the use of recyclable materials.
Sall, experience, know-how, care of our customers, attention to detail, people and environmental impact.
Our job is to create a safety ecosystem around your business, for people and the environment.
Our team
"We hire the best talents and give them the means to express their full potential."
- Andrea Leonardi (MD Justrite Italy)
In Sall the selection of personnel does not pay attention to age.
For us, skills, the will to always improve, the passion for your work, empathy, the courage to be innovative, the ability to communicate and exchange ideas, respect for people, a sense of responsibility are all important.
We believe in meritocracy and collaboration in an environment where everyone enthusiastically shares the objectives and business strategies because in Sall are the right people to bring innovation and growth.
Our reputation
We are recognized and appreciated worldwide as specialized manufacturers of systems for the safe storage and handling of hazardous and polluting substances.
As specialized manufacturers, we know every technical detail of our products and, as we make pre-production prototypes to test their usability, operational safety and efficiency, our customers know that they can count on excellent training and assistance services.
Sall, because you deserve the best performance and safety solutions on the market.