Drums Chemical Storage Units

Complete range of bunded storage buildings specifically designed for drums and small containers of hazardous, polluting liquids.
All these storage units are are equipped with an integrated certified and tested spill sump to prevent the dangers and risks due to possible accidental spills and leakages or drums failure.
Manufacture in compliance with UNI EN ISO 3834-2:2021, UNI EN ISO 9001 and EN 1090.
Models are avilable in four doors versions:
Hinged doors
Sliding doors
Fabric door
No doors
Groung Fixing service on request.
Would you like to become a distributor? and get the best offer and services on the market.
You saw the standard model you looked for but need adjustments?
For fast customizations over dimensions, colours or other highly technical adjustments as well as optionals; contact our technical sales department and get
Great, you find exactly the drum storage units you were looking for,
Storage Buildings for drums horizontal storage
Horizontal drums storage buildings with air vents to provide the internal optimal natural air flow.
This model comes in three doors versions: hinged doors, sliding doors or fabric door.
| | | |
| --- | --- | --- |
| Art. Nr. | CTO2P3114 | CTO 3P3114 |
| External dimensions: Width x Depth x Height (mm) | 3120 x 1450 x 2600 | 3120x1450x3000 |
| Inner measurements: Width x Depth x Height (mm) | n.2x3000x1340x920 | n.3x3000x1340x750 |
| volume (L) | 550 | 800 |
| Drum capacity | 8 | 12 |
| Models without doors | CTO2P3114 | CTO3P3114 |
| Models with sliding doors | CTO2P3114PS | CTO3P3114 PS |
| Models with hinged doors | CTO2P3114PB | CTO3P3114PB |
| Models with PVC fabric door | CTO2P3114TP | CTO3P3114TP |
| | | |
| --- | --- | --- |
| Art. Nr. | CTO2P6214 | CTO3P6214 |
| External dimensions: Width x Depth x Height (mm) | 6240x1450x2600 | 6240x1450x3000 |
| Inner measurements: Width x Depth x Height (mm) | n.4x3000x1340x920 | n.6x3000x1340x750 |
| Capacity (L) | 1100 | 1600 |
| Drum capacity | 16 | 24 |
| Models without doors | CTO2P6214 | CTO3P6214 |
| Models with sliding doors | CTO2P 6214PS | CTO3P6214PS |
| Models with hinged doors | - | - |
| Models with PVC fabric door | CTO2P6214TP | CTO3P6214TP |
Storage Buildings for drums vertical storage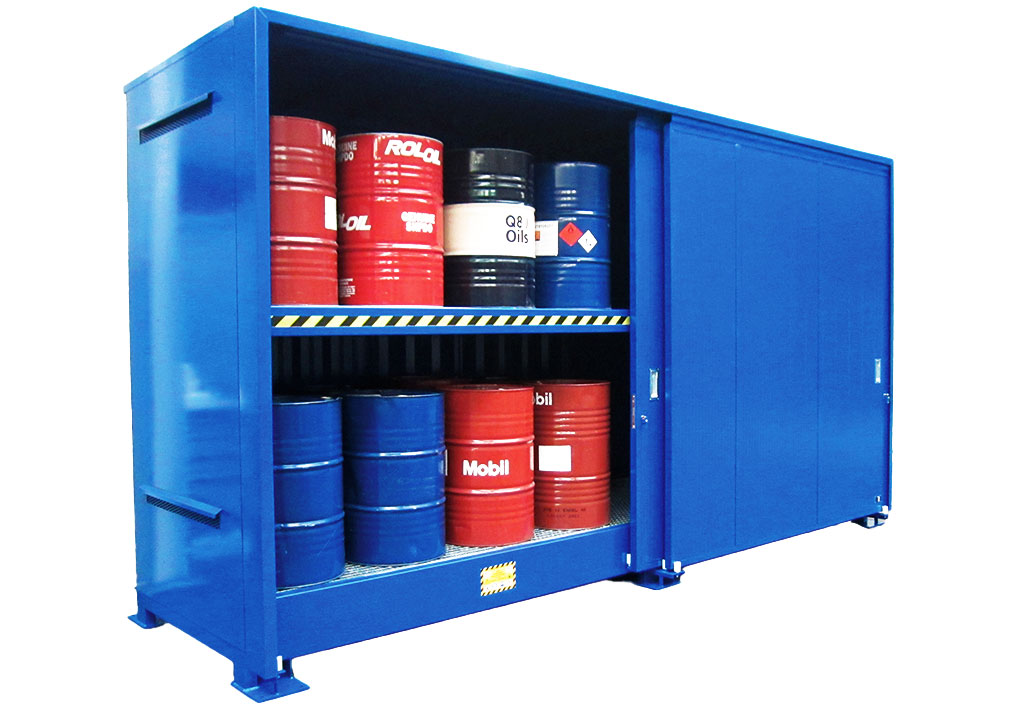 | | | | | |
| --- | --- | --- | --- | --- |
| Art. Nr. | CTG1P3114 | CTG2P3114 | CTG1P6214 | CTG2P6214 |
| External dimensions: Width x Depth x Height (mm) | 3120x1450x2600 | 3120x1450x3000 | 6240x1450x2600 | 6240x1450x3000 |
| Internal dimensions: Width x Depth x Height (mm) | 3000x1340x2120 | 2x3000x1340x1190 | 6120x1340x2270 | 4x3000x1340x1190 |
| Volume (L) | 1350 | 1350 | 1350 | 2670 |
| Drum capacity | 10 drums on the grid otherwise 8 on a 1200x1200 mm pallet - 6 drums if placed on europallet | 20 drums on the grid otherwise 16 on a 1200x1200 mm pallet - 12 drums if placed on europallet | 20 drums on the grid otherwise 16 on a 1200x1200 mm pallet - 12 drums if placed on europallet | 40 drums on the grid otherwise 32 on a 1200x1200 mm pallet - 24 drums if placed on europallet |
| Models without doors | CTG1P3114 | CTG2P3114 | CTG1P6214 | CTG2P6214 |
| Models with sliding doors | CTG1P3114PS | CTG2P3114PS | CTG1P6214 PS | CTG2P6214PS |
| Models with hinged doors | CTG1P3114PB | CTG2P3114PB | - | - |
| Models with PVC fabric doors | CTG1P3114TP | CTG2P3114TP | CTG1P6214TP | CTG2P6214TP |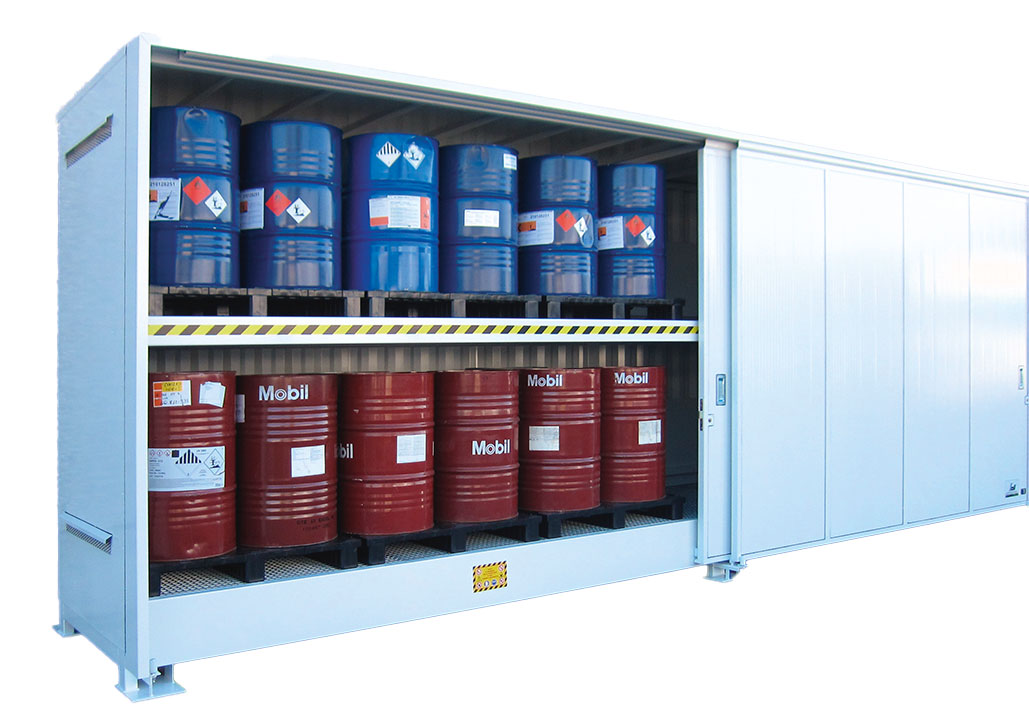 | | | | |
| --- | --- | --- | --- |
| Art. Nr. | CTP2P4014 | CTP2P5414 | CTP2P8014 |
| External dimensions: Width x Depth x Height (mm) | 4020x1450x3000 | 5440x1450x3000 | 8040x1450x3000 |
| Internal dimensions: Width x Depth x Height (mm) | 3x3900x1340x1200 | 6x2600x1340x1200 | 6x3900x1340x1200 |
| Volume (L) | 1600 | 2200 | 3200 |
| Drum capacity | 24 drums on the grid otherwise 24 on a 1200x1200 mm pallet - 16 drums if placed on europallet | 32 drums on the grid otherwise 32 on a 1200x1200 mm pallet - 24 drums if placed on europallet | 48 drums on the grid otherwise 48 on a 1200x1200 mm pallet - 32 drums if placed on europallet |
| Models without doors | CTP2P4014 | CTP2P5414 | CTP2P8014 |
| Models with sliding doors | - | CTP2P5414PS | CTP2P8014PS |
| Models with hinged doors | CTP2P4014PB | - | - |
| Models with PVC fabric doors | CTP2P4014TP | CTP2P5414TP | CTP2P8014TP |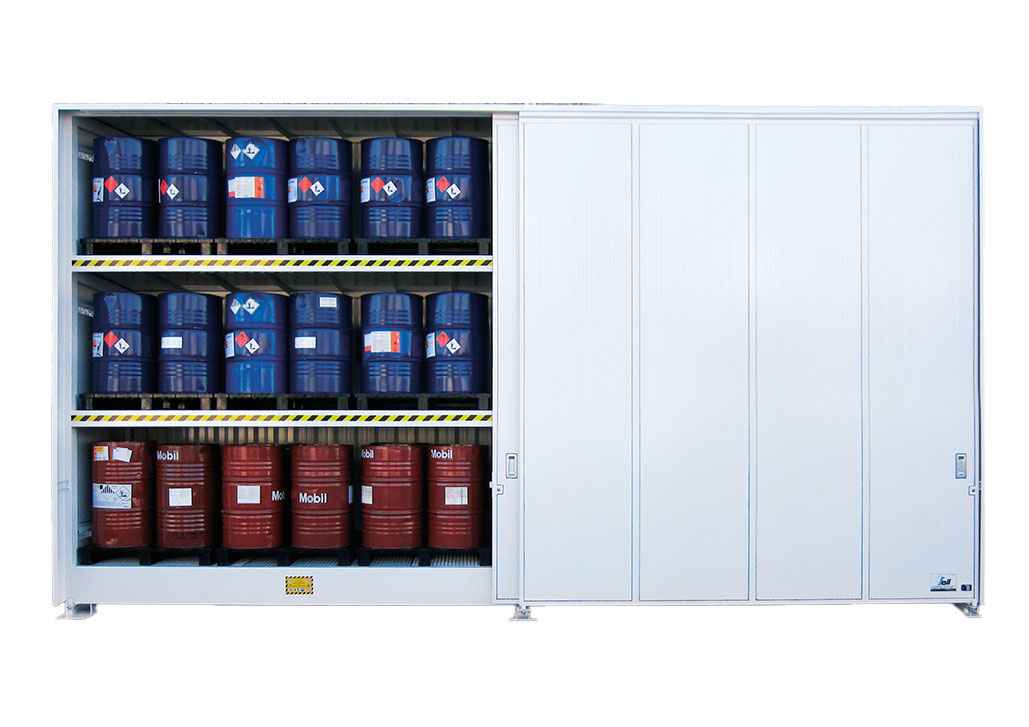 | | | | |
| --- | --- | --- | --- |
| Art. Nr. | CTP3P4014 | CTP3P5414 | CTP3P8014 |
| External dimensions: Width x Depth x Height (mm) | 4020x1450x4480 | 5440x1450x4480 | 8040x1450x4480 |
| Internal dimensions: Width x Depth x Height (mm) | 3x3900x1340x1200 | 6x2600x1340x1200 | 6x3900x1340x1200 |
| Volume (L) | 2400 | 3200 | 4800 |
| Drum capacity | 36 drums on the grid otherwise 36 on a 1200x1200 mm pallet - 24 drums if placed on europallet | 48 drums on the grid otherwise 48 on a 1200x1200 mm pallet - 36 drums if placed on europallet | 72 drums on the grid otherwise 72 on a 1200x1200 mm pallet - 48 drums if placed on europallet |
| Models without doors | CTP3P4014 | CTP3P5414 | CTP3P8014 |
| Models with sliding doors | - | CTP3P5414PS | CTP3P8014PS |