Fire Rated chemical storage buildings
The Sall fire rated buildings for flammable substances are validated REI 120, by the RINA certified body, to ensure the safe storage of flammable substances.
Depending on the hazard class, the category and the quantity of the flammable substance or substances to be contained in the fire-fighting facility, our Engineering Department will develop the right project together with our team of safety experts dedicated exclusively to these products.
This special type of storage must be designed and manufactured by experts in order to meet the necessary safety requirements, both for the type of product and for the place where it will be installed, and must comply with the law construction criteria.
REI 120 Sall Fire-rated storage units provide 120-minute fire safety - this means that tightness, thermal insulation and stability of the structure have been tested and validated for 120 minutes for fire resistance both outside and inside the storage building - and have been manufactured and tested in compliance with UNI EN ISO 13501-2, EU and both EU and national regulations.
The deposits made specifically for flammable substances are 100% customizable precisely to meet the specific safety needs of our customers.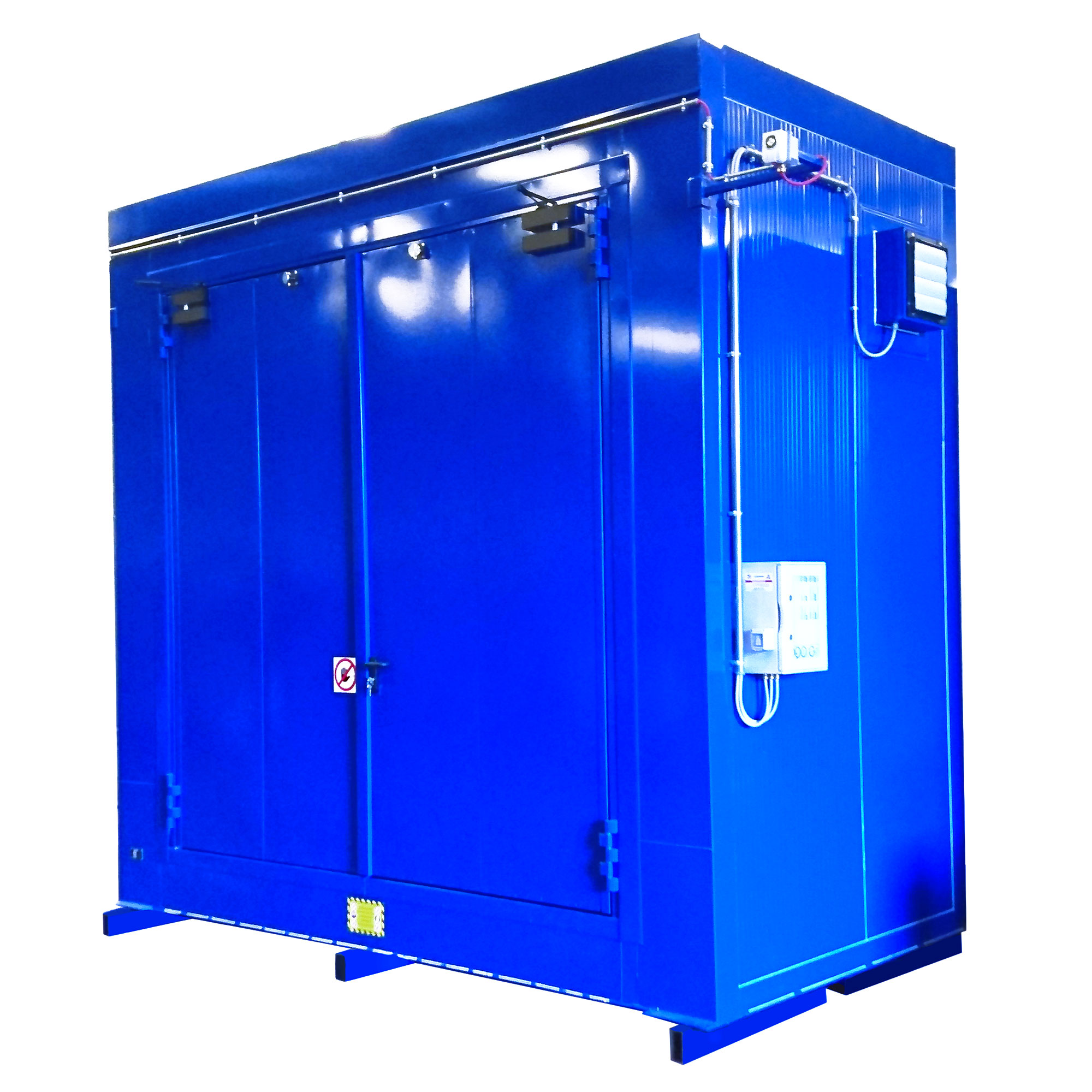 Technical features common to all our REI 120 models:
Certified steel spill sump, with removable grid, and tested in accordance with UNI EN ISO 3834-2:2021
High quality C4M coating, which creates an ultra-resistant protective layer of thickness from 80 to 100 microns, for maximum resistance to even extreme weathering and corrosion
Varnish finish with sealants and fire resistant products
Lockable
REI 120 certified swing doors according to the UNI 9723 standard, equipped with an electromagnetic locking system that is released in the presence of fire by means of sensors and equipped with closing arms.
Automatic closing of doors by means of hydraulic door closer with adjustment of opening force, closing speed and final release
EI 120 certified waterproof sealants and therefore maximum protection of the contents from external agents and rain. Essential to avoid, for example, chemical reactions that some substances develop in contact with water
Separate control panel
Alarm systems
Automated, substance-specific fire extinguishing systems
REI 120 certified air vents for a safe natural ventilation
Customizations and ATEX systems available:
ATEX forced ventilation system
ATEX air conditioning system
ATEX lighting system
ATEX cooling system up to 0 ºC
ATEX temperature management system
Painting of any colour
Shelf solutions for drums and sump capacity according to specific safety requirements
Personnel access solutions to perform operations such as filling, racking, or other
Backsplash
Dimensions and capacity of the structure and its components such as the safety tank and customizable shelves
Possibility of hybrid solutions for both the storage of drums and tanks
Accessories for drums and IBC to facilitate operations
Fire rated storage buildings benefits:
Maximum safety for the storage of large volumes of flammable hazardous substances
Maximum safety for people and the company thanks to key locking, automatic door locking, thermal insulation
Automatic closing of doors in case of fire Maximum environmental safety thanks to integrated safety tank in case of accidental spills or breakage of primary containers
REI 120 validation and compliance with national and EU standards and regulations
and create with us the fire-rated storage building you need and comply with all the standards and regulations or ask for a free technical onsite assessment and consulting.