Join Our Global Company and Unlock Your Potential
At Justrite Safety Group we have been shaping the future of workplace safety for over a century. Our rich history and global presence have made us a leader in our industry, and we continue to innovate and inspire every day. We take pride in our diverse workforce, comprising talented individuals from all corners of the globe, and we believe that it is this diversity that fuels our success.
By joining our team, you will have the opportunity to collaborate with colleagues from various cultural backgrounds, each bringing their own unique perspectives and expertise. Engaging with such a diverse group of professionals will broaden your horizons, challenge your thinking, and help you grow both personally and professionally. Whether you're brainstorming ideas with someone in the Netherlands, solving complex problems with a colleague in Japan, or learning about new trends from a teammate in America, you'll experience the true power of a global community.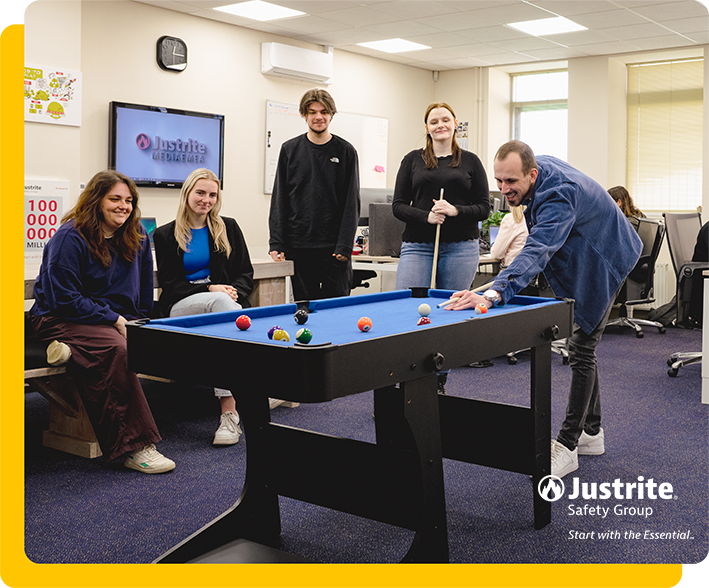 But it's not all about work. At Justrite, we know that a healthy work-life balance and a positive office culture are essential for long-term success. We foster a supportive dynamic within our teams, encouraging collaboration, open communication, and mutual respect. Our friendly and inclusive environment ensures that everyone feels valued and appreciated.
We also believe in the power of having fun together. From team outings to exciting social events, we make sure to create opportunities for our employees to bond and unwind. Whether it's a trip to the Efteling, go-karting, or a friendly bowling session, there's always something to look forward to outside the office walls. We believe that fostering strong relationships among our colleagues creates a stronger, more productive team.
Are you ready to make a meaningful impact and be part of a dynamic global workforce? We are looking for individuals who are not only passionate and driven but also enthusiastic about collaborating with people from different cultures and backgrounds. Our ideal team members are dedicated, detail-oriented, and have a thirst for knowledge. We value innovation, creativity, and a desire to continuously learn and improve.
Browse our current job openings and internship opportunities and take the first step towards an exciting career with Justrite Safety Group.
---
Internship Opportunities
In addition to our regular employment opportunities, we offer internships through our internship program. This program provides valuable hands-on experience and mentorship from seasoned professionals in your field of interest. Whether you are a recent graduate or a student seeking practical exposure, our internships are designed to nurture your talents and help you kick-start your career.
If you'd like to intern at Justrite Safety Group, contact us today by sending an e-mail to hr-netherlands@justrite.com.
Open Application
We always looking for new talents to join our company.
If you don't see anything that you think suits you at this time, you can submit your CV as part of an open application. If we think there is something for you or if a position we think will suit you comes up in the future, then we can get in touch. Send your CV to hr-netherlands@justrite.com.