Hazardous Materials Storage Buildings
Discover our complete range of Chemical Storage Buildings.
What is a chemical storage building and when you need it.
Also known as chemical storage units or chemical stores, simply put, these are secondary containment systems designed for the safe storage of chemicals, polluting and hazardous materials contained in drums, IBC, as well as in any other kind of primary container to limit the dangers and risks intrinsic by nature of these substances.
For this reason they are a crucial safety equipment required for all the manufacturers and businesses of every industrial sector that use in their processes, or produce, chemicals, hazardous, flammables substances and any other materials that can potentially harm people, workplace and environment.
These buildings must comply with EU Regulations and Standards and must be designed taking into consideration the most efficient and safe way to move these substances in and out the storage unit.
All Sall storage Units are designed and manufactuered to guaranteed the storage compliance with the EU norms and regulations anf represent the safest choice for chemicals storage.
, discover offers, services and materials dedicated to you.

Need our chemicals storage units? with the best solution.
For and you'll get in a timely fashion clear technical advice and quotation.
How to choose the proper storage building?
We now it could be difficult to choose the best option for your needs since we manufacture a complete range of chemical storage solutions since the 1975.
Here are the main questions for you to be addressed:
Which type of chemicals will be stored?
Where they will be stored? Are there properties or buildings closed to the place you plan to install the storage unit?
Which is the storage capacity you need?
Do you need horizontal or vertical storage?
Is there the risk of spillage?
Do you need shelvings, racks, spill pallet or any other accessory?
Are you aware of all the potential risks and dangers both related to the chemicals to be stored and the site?
Do you know all the applicable Regulations for Chemical Storage?
We offer free on-site and risk assessment where we will examine for you all the risks and dangers and the best solutions in compliance to Regulations and Standards,
You need guidance?
When you are not sure about all the regulations and technical requirements as well as if you are not 100% sure about all the possible risks then it is time to ask experts.
Our Engineers and Qualified Technicians always go straight to the best solutions considering all the variables and peculiarities of your business.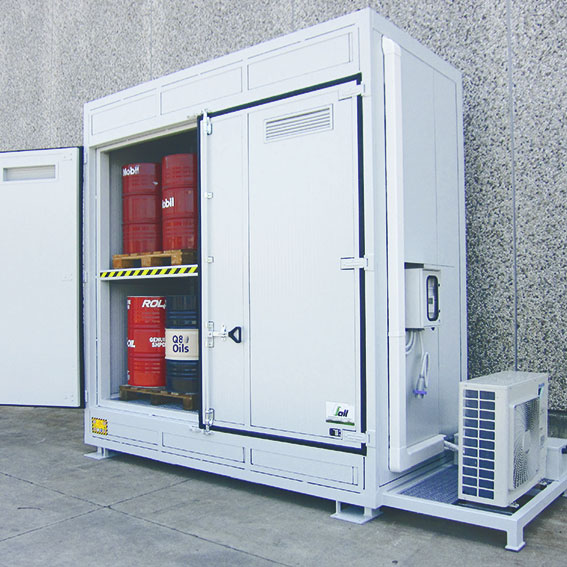 Take advantage of the extensive knowledge and experience of our engineers and